Hey everyone!
Well, I took a few days off from blogging but thought I'd best get back into the swing of things!
Following on from my Crafter's Resolutions I've actually come up with a lot more of them too! But before I droll on about those I wanted to direct you all to this very inspiring post on Susan Raihala's blog
here
. She mentions how she chose a word for 2009 and that word was FEARLESS. Well, if you read her post you'll see just how far this word took her, and her crafting, in 2009! I found this very inspiring and powerful and decided I would try and pick a word for myself for 2010 and see where it takes me.
My word is …
*Adventurous*.
So, let's see what comes of that! I want to be more adventurous in general but I'm particularly excited by the prospects of where this will take my crafting. If I could achieve just a fraction of what she managed last year (but related more to my own projects and ambitions etc) then I will be extremely happy!
So, you saw my Crafter's Resolutions from one of my previous posts. Well, I came up with a whole bunch more and decided I should list them all here for completeness:
to make sure I use my newest Papertrey sets/stash as soon as possible after getting them, thereby getting an earlier play-time and also putting them to use sooner even if they're not quite in keeping with what I'm feeling like making. After all I might just surprise myself to be more creative that way! It also means that instead of being forlorn that my latest order still isn't here yet that I can still get a buzz from inking up some of my newer sets!
to give some of my older, more neglected sets a bit of love and bring them out to play too!
Sell the stash I don't use. Since I found PTI I hardly use anything else at all, and although I won't get rid of cardstock or ink etc there are some things I just know I will never use again so I might as well sell them and recoup some of the funds I've spent on PTI!
Make up and sell all of my 'kit' cards. When I started cardmaking about a year ago this was my first avenue in but I quickly got past it and now I have a few kits that are sitting there just being a waste of money. We're supposed to be having a Craft Fair at work and if it goes ahead I want to make up as many kit cars as possible and sell them off. They're not at all satisfying to make but even if they sell at a reduced price (compared with my usual prices for PTI cards) it will still get rid of them and again I'll be able to recoup some more funds
Try more new things/ideas. I think I'm still settling on a style that is all 'my own' and experimenting will help me learn and discover new things. And it's fun too! Related to this – try experimenting with different media to go on my cards. I've decided to start this off with chipboard, with the aim to get a few sheets and cut shapes on my Cricut or with my Big Shot and make my own embellishments. I think I'll see how that one goes before deciding if I want to try any other media too – I don't like to make 'fussy' cards so I don't need to go too crazy on this one.
Make a PTI Swatch Book. I'm tired of having to pull out different sheets of cardstock and pile them together, or try and think in my head how combos will look, before putting them together. I want to make an ickle one so I don't have to use up too much cardstock for it and it'll take up less space on my desk when I'm crafting, and I really like smaller things too because they're cute!
Get all the PTI ribbons and buttons I don't own yet. Then I can mark that off my wishlist and my monthly order will have a little more room for stamp sets and patterned paper etc!
(If PTI are there) make it to CHA. Meeting the DT (Nichole and Dawn in particular) would be a dream come true for me!
Keep trying/don't get discouraged/don't take it too hard if I don't get picked for challenges/GSS etc. I know how amazingly talented others are so I shouldn't take it as a reflection of myself being 'rubbish'. And I will never win anything if I don't keep trying!
Get published. This is by far going to be the hardest one but it's something I really really want to achieve so I don't mind how much work I need to put in or how much I have to learn along the way
Now I'll be the first to admit than some of these are very ambitious, particularly the last 3! But I'm going to do my best to accomplish them. Wish me luck!
Now then, before you all nod off completely, I had better present you with a card! This kind of ties in with resolutions 1. and 5., but particularly number 5. There are a few things that I just don't usually touch because I feel I can't do them or don't think they're my style and so on. But I've got to just give it a go and try it and find out!
One of the things I've never felt I've been good at is monochromatic cards. And so, I present to you a monochromatic card I came up with yesterday that I think is my first step to kicking that conception: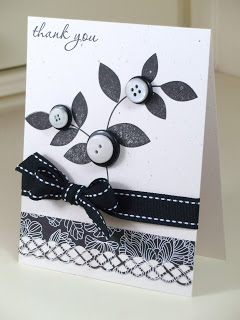 What do you think?! I'm really proud of how this has turned out! It's out of my comfort zone for many reasons, not just the colour! Apart from the embellishments this is a one layer card, which is something I never do! And I only used a couple of stamp sets, very rare for me! And the other thing is that bow! I hardly ever put bows on my cards because I don't know how to do them! So what changed? That amazing Ms. McVey of course! She posted a video tutorial of how she ties bows and this is the result of my first go! In fact it was the bow that inspired the card!
I started with a Rustic Cream card base and decided to see if I could tie one of Dawn's bows. I had black Saddle Stitch ribbon so I thought I'd give that a go as it would go with the cream. After a bit of fiddling I managed to pull it off, wow!!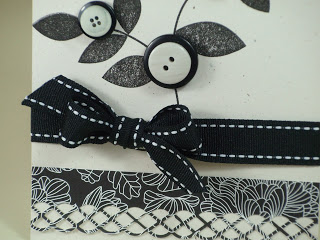 As the bow looked so good I just suddenly felt compelled to turn the whole thing into a card, and felt that a monochromatic scheme was just the thing to go with this elegant, classy bow. Okay, you can tell that I love this bow can't you?! I can't help it, I'm just so pleased with my efforts!!
Anyway, I decided to go for a very simple design so I stamped the largest leaves from Turning a New Leaf using black Versafine ink. I added a strip of punched black In Bloom patterned paper, punched with my replacement Martha Stewart punch! The few days I lived without my replacement were horrible and I hope I never have to go through it again, lol!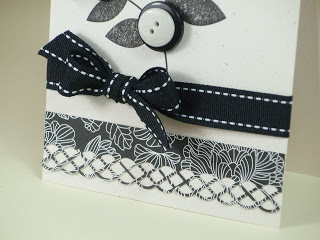 Because I love buttons ever so much, I decided that the leaves needed some buttons for flowers. This is also because I'm *still* waiting for my December Release order to arrive, amongst which is Blooming Button Bits! So I decided to try my own version while I'm waiting!
I picked out different sizes of Black and Cream buttons from my stash and stacked the cream buttons on top of the black ones, adhered with Pinflair Glue Gel. I used the same to adhere to the card base.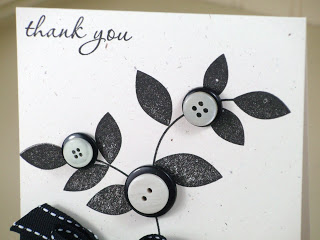 Finally I stamped the sentiment from Communique Curves in black Versafine. I decided to try a different placement for the sentiment from usual too so went for the top left. I think overall the design works out quite balanced that way.
And that was it, card completed, and all without the usual backgrounds, layers and million and one stamp sets, lol!
So, what do you think? Am I off to a good start?! What should I try doing next? I'd love to receive your comments on this card, and on the post in general. I'm going to need your support and encouragement to achieve some of these goals I think, and apart from that anyway I always like to know what you think!