Evening everyone!
Wow, what an amazing release it was at PTI this month!! Can't believe how many amazing creations the DT came up with and how many mindblowing goodies there were! If you girls hurry I think there's still a few scraps left in stock, lol.
Today I'm sharing a non-Christmassy card as promised! I returned to (one of my many) favourite sets – Star Prints: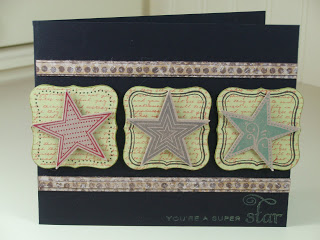 I'm really pleased with the kind of funky feel this card has, and it was really quick and simple to create as I useda few bits and pieces that I'd already stamped so it just came together really easily!
The stars were stamped on Kraft cardstock with Pure Poppy, Smokey Shadow and Ocean Tides inks, then punched out and mounted on little Spring Moss mats. The mats had Background Basics: Text Style I stamped on in Melon Berry ink, then cut out with Labels 1 nestabilities and borders stamped on in True Black using the Vintage Labels set and the edges swiped with Ripe Avocado ink.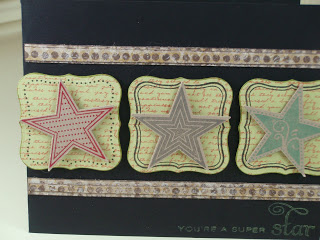 The mats were then adhered to a True Black card base with the two end mats just slightly overlapping the edges. The two strips were created with little strips of Kraft cardstock onto whichI'd stamped Polka Dot Basics I in Dark Chocolate, Text Style I in Summer Sunrise and random stamping with bubble wrap using Vintage Cream. I matted thin strips onto slightly wider strips and used those to frame the star mats.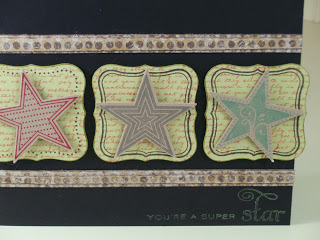 Finally the sentiment was stamped with Spring Moss ink. I would have liked it to stand out more but I didn't trust myself to stamp straight on top of it again and get it perfectly lined up, lol.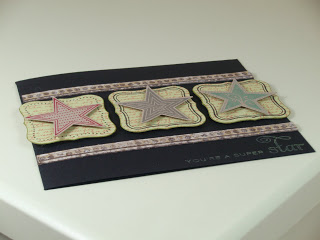 So what do you think? I'd love to hear your comments!