Evening all,
I am way behind on my posts, am just having too much fun creating to be typing! But I figured I better try and get back into posting or I'll never catch up!
I'm loving my latest PTI stamps! They are so versatile and can easily be used to create really fantastic cards. Here I'm showcasing Dawn McVey's latest set, 'Mod Squad'. This set is retro but at the same time modern and funky!
I'm still trying to experiment with colour combinations so here's another bright card: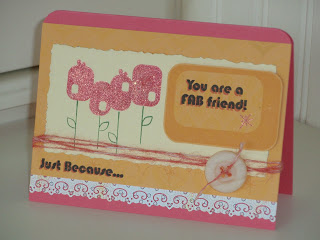 The base is Berry Sorbet, to which I added a mat of Summer Sunrise, then rounded the top corners. I wanted a really subtle pattern on this so I stamped the 'peacock feather eyes' (for lack of a better description/name for them, lol) with Lemon Tart ink, the stamped the star in Summer Sunrise in the centre of some of them.
The patterned paper is Basic Grey Porcelain punched with the gorgeous Martha Stewart Scroll Lace punch.
For the focal point I stamped the flowers using Berry Sorbet and New Leaf onto a Lemon Tart rectangle which had been cut with Nestabilities. I went over the flower heads with my Quickie Glue Pen and added Kars Extra Fine Glitter.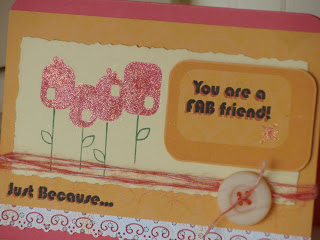 The sentiments were stamped twice, once in True Black and once in Berry Sorbet to create a shadow effect. The rounded rectangle is also one of the stamps in the set, stamped with Summer Sunrise and the pattern inside stamped in Lemon Tart again for a subtle effect. I added a star in Berry Sorbet and then applied glitter in the same way that I did for the flower heads.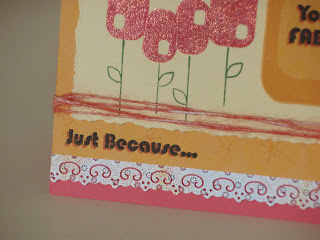 Finally I took a length of Rustic Cream Button Twine and stroked my Melon Berry ink cube over it repeatedly to create a co-ordinating colour twine. I really like this effect and will be using it again! I wrapped the length round repeatedly and secured at the front with a large Lemon Tart button.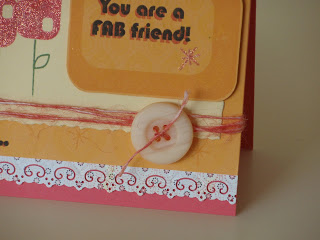 Dawn's stamp sets are always so versatile so I look forward to sharing more creations made with this set very soon – if I can ever catch up with my posting that is!!